Grace being a hostess extraordinaire wanted the best appliances for the kitchen.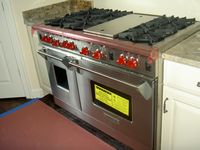 Our light fixtures were a fun part of the process and we think we have a good match with our interior selections. We used almost all compact fluorescent and krypton gas bulbs to save energy and cast a "whiter" light spectrum.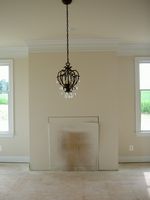 The most impressive piece is the main chandelier in the foyer. With 26 lights and spanning over 50" wide, this very heavy piece took four people and a huge scaffold to set.
We re-engineered the dual staircase setup to add more square footage to the house. By using a split staircase we were able to add a butlers pantry and enlarge the guest bath.