Now the fun parts begin. The interior is where Grace and I really had some great ideas.
The first, but least fun part of the process is drywall.
The drywall team hung the whole house in a little over a day!
We used all available space by moving closets, raising ceilings and making usable niches in the master bedroom.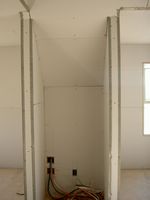 One highlight of the house is the use of tray and coffered ceilings wherever possible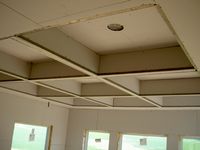 We chose 3 panel solid core doors.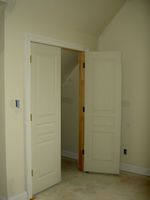 The next step was trim and paint. We chose some very nice mouldings but almost everything was standard already.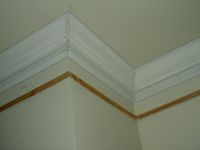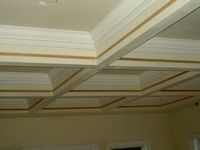 Grace had a specific vision for the cabinets for the house. The antique white distressed cabinets were used in the kitchen, butlers pantry, master bath and breakfast nook.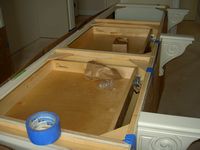 Grace wanted a really big kitchen sink with an apron front.
Butlers Pantry:
Master Bath: ( can you guess which one is Grace's )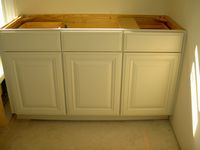 Breakfast Nook in Master Bedroom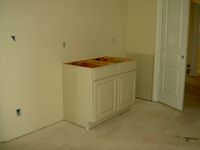 We even went to the counter top manufacturer to pick the individual slabs of granite for the bathrooms and kitchen. That was fun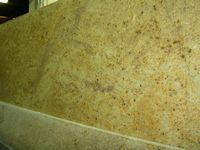 Counter tops weren't limited to granite and marble. We had a top made in texas for the kitchen island from thick walnut butcher block.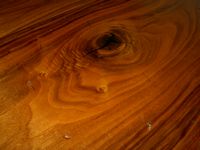 It was a hard search to find exactly the right flooring for the first floor. We decided to go with an antique barnwood from Texas. The wood is about 200 years old. Some of the boards are 14 feet long and over 7" wide.
Before Finishing:
To finish the flooring we used an old method using a slight screening to remove loose material and four coats of Waterlox tung oi.
After the first coat: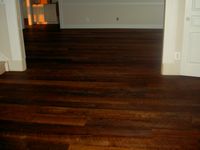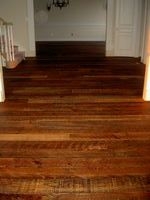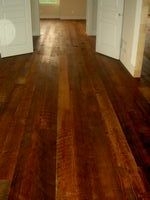 I ordered a large amount of Travertine Marble directly from Turkey to help save on costs. It turned out to be a great plan. The large 18" pieces look great in all the bathrooms and the laundry room.