We downsized the HVAC systems as a result of the optimal house placement and extreme insulation values we used.
We implemented some of the newest and most advanced HVAC systems available. To maximize efficiency and comfort, multi compressor, 16 SEER air conditioning units and multi stage - variable speed furnaces are fed to multiple zones of the house. All of these units will be controled by the home automation system.
Probably the single most important feature up to this point has been insulation and air infiltration. We wanted this house to be energy efficient and as close to airtight as possible
We had spray foam insulation sprayed to all walls, band joists, sill joists, etc. The soy based spray foam completely air seals all the cracks, gaps and seams that would normally allow outside air in, or inside air to escape.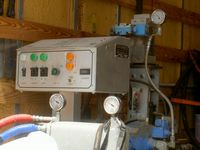 I sealed all the windows and doors with a slow expanding foam that seals much better than traditional insulation. The use of expanding foam drastically reduces the noise levels in the house.
One of the other trouble areas in a traditional house design is the wall that separates the house and garage. Because the use of spray foam is not possible, we used a combination of fiberglass insulation and foam board with taped seams to eliminate heat exchange and air leakage.
Another new techneque I wanted was a supplimental air barrier for the ceiling. Air leakage into the attic can be the biggest drain on a homes energy consumption. The combination of vapor membrane with both batt and blown insulation will be a great insulation system for the attic.
There are many other areas that spray foam insulation can help. For example the areas around bathtubs that meet exterior walls and other hard to reach areas that may have been under insulated because of the difficulty of installing standard insulations.
The overall R values for the exterior walls were over R-20 for the exterior walls with R-30+ for the two story walls in the great room. The large, normally hollow window boxes that surround the huge windows in the great room were filled with cavity spray foam to give an value of approx R-50 . The slow rise foam installation was an adventure in the making. I learned a great deal in the process.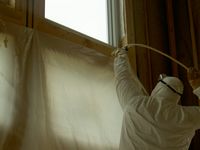 This foam is a strong chemical and as we found out, safety suits are a must, even if they look funny on Robert.
Another benifit of so much insulation is how quiet the house is. All the layers and types of insulation have improved the transmission of sound between rooms and from outside. We used acoustical insulation in many areas around the house like bathrooms, bedrooms and the library for increased sound deadening.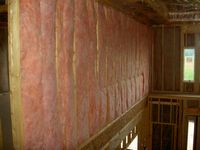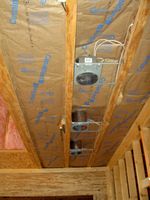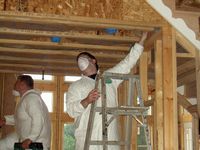 We did not forget one of the most important rooms of the house. . . the garage. We installed R-13 in the walls and R-38 in the ceiling with insulated garage doors.